Blog
6 Long-Term Benefits of Content Marketing
1st September 2017
One way to set yourself apart from your competition is to influence how your target market perceives your company, and publishing content online is a great place to start. Done right, this content can earn you trust with your audience and position you as one of the leaders in your industry.
Moreover, the consequences of not finding innovative, engaging ways to stand out in today's increasingly competitive online world could result in your brand and message being overlooked. Especially at a time when many search engines reward websites who update their content with higher rankings and push back websites who are stagnant.
With so many different types of content from blog posts, to eBooks, white papers and even videos you're spoilt for choice on how to communicate with your target market, to generate new interest and grow your audience.
'53% of marketers say blog content creation is their top inbound marketing priority (HubSpot, 2017).'
You might be thinking that content isn't right for your business, if you are still on the fence about content marketing or need some reassurance to continue to invest in it, here's a list of the top long-term benefits to consider.
Content Marketing Benefit #1: Improve your SEO
If your sole outcome for producing content is to improve your search engine rankings we advise you to change your mindset. Always write with the intention of adding value to your audience, if your audience loves your content we expect the search engines will too.
Content marketing can greatly improve your search engine visibility. Every new content piece you add to your blog or resources page is another page Google is going to index. More pages don't necessarily mean more traffic, but the more quality pages you have indexed, the more opportunities you get to rank for in these search queries.
In addition, if you produce a strong piece of content, you'll likely to get people linking back to you, sharing your content across other forums and blogs.
Adding graphics to your articles helps you rank in Google's image search. The best thing about image search is that it's much less competitive and can be a major source of traffic. According to Moz, the number of visits resulting from image search accounts for 20% to 60% of all visits.
Lastly, internal linking. Internal links are links that go from one page on a domain to a different page on the same domain. If you don't have enough pages to link to/from you cannot build strong internal links, so this is where your content comes in.
By having more pages on related topics, you can build good internal linking architecture. This will help important pages and cornerstone content rank better. Here's an example of internal linking: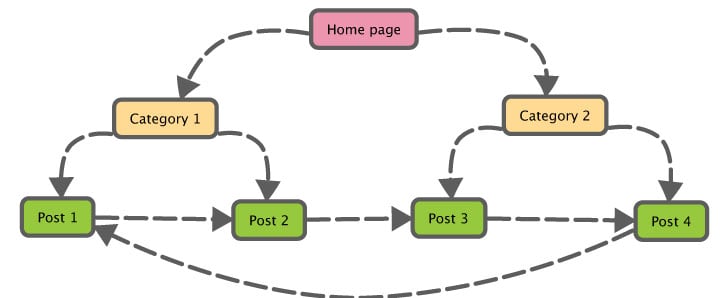 Content Marketing Benefit #2: Increase the traffic to your website
Providing free valuable content for your audience to easily access will draw traffic to your website. With improved search visibility, the traffic flow to your website will also increase.
Where relevant you can include links to your website in your guest or syndicated content pieces. You not only prompt readers to click-through but also improve user experience providing more content on a topic of interest.
As you may already notice, some authors have a short bio at the end or the beginning of their posts. To drive more traffic to your website you can leverage this description by mentioning your products, services or company. Here's an example, see how the author has anchored her services and linked back to her website? Not only that, but she has also mentioned her social media profiles to grow her following.
Content Marketing Benefit #3: Establish your brand as authority
Producing helpful and informative content will influence how people think of your brand and what they associate it with trustworthy/dishonesty, expert/novice etc. Ultimately you want to position yourself through your content as the go-to resource for any questions your target audience may have.
Did you know that 94% of B2B buyers conduct online research at some point in the buying process? By establishing yourself as a go-to source in the awareness and consideration stages, you're also likely to become the go-to website when they're ready to make a purchase.
Additionally, guest posting or content syndication can also help establish you as a thought leader. This is especially true if you post on authoritative websites your audience visits.
Content Marketing Benefit #4: Improve your brand awareness and recognition
Strong content allows you to show your customers who your company is and what your brand represents.
If you want your content to reach as many people as possible, your brand awareness strategy should be geared toward mainstream topics that appeal to high-authority news sites with large followings.
The consumer's ability to recognize, recall or associate your brand to key qualities they are looking for is essential to deciding which company they choose to purchase from.
Content can help you further establish your brand's identity by using brand-specific language and voice, but also important messages to your products or services.
Content Marketing Benefit

#5: It helps generate leads
63% of marketers say that generating traffic and leads is their top challenge in 2017 and producing content can be a great way to do this.
One of the biggest benefits of content marketing is the ability to attract new leads. A research found that companies that blog generate 67% more leads than companies without blogs or content-rich websites.
A way in which to generate leads is to create some gated content, it is usually in the form of an eBook, whitepaper or a webinar and requires users to fill out a form to access it.  Once you've got their contact details you can nurture them with more relevant content and hopefully convert them into a customer.
The best part about content marketing is that even old blog posts can keep generating leads over time. Evergreen content is an asset to your business and offers a compounding return on investment.
Content Marketing Benefit

#6: Cost-effectiveness & loyalty
Make no mistake the initial investment can be sizable for planning and executing a strong content marketing strategy. However, compared to other outbound marketing strategies, content marketing still proves more cost-effective in delivering results. In fact, it costs up to 62% less than traditional marketing.
The association your customers can have with your companies consistent, riveting content can last for years, creating a steady flow of people who are ready to engage with you when they are ready to make a purchase.
Brand loyalty can be influenced through updated and relevant content, resulting in your consumers returning to buy more of your product or service. The community that results from this provides a consistent source of revenue for your company, reducing the pressure for your company to continuously seek new customers.
If you would like to find out more about the benefits of content marketing or would like to get to work on your own strategy look no further, we would love to hear more about your company.
Explore More Related Content