Blog
Is SMS Marketing Right for My Business?
28th September 2017
Are you still on the fence about SMS marketing and whether it should be part of your marketing strategy?
Believe it or not, SMS marketing is one of the most effective forms of instant communication. It has a whopping 98% open rate with 90% of the messages being read within 3 minutes. There are many more advantages to using SMS marketing which can benefit any type of business.
Yet, it is also true that companies in certain sectors can make better use of this marketing form and therefore take full advantage of what SMS has to offer.
So, what businesses can make the most of SMS Marketing?
Beyond industries, there are certain characteristics that make a business a good fit for SMS marketing. Generally, SMS marketing is beneficial to:
Companies that need to verify a person's identity
Organisations that want to make their content interactive (through Rich SMS)
Companies that need to send reminders
Businesses where instant communication is essential
Organisations that run last-minute deals and promotions
Companies that need to send timely offers
Businesses which run surveys to improve their services
Businesses that need an instant response from clients
Organisations that need to send confirmation messages
Some businesses aren't an obvious match for SMS marketing but can benefit from implementing it. For example, local libraries. Libraries can leverage SMS messages to send reminders when a book's due date is approaching or recommendations based on past behaviour.
Now, let's have a look at the industries that can utilise SMS marketing the most:
Here's the list of the industries in which SMS marketing is widely used:
1) Food and Beverage Industry
The UK restaurant sector is booming, with Britons spending a total £52.2bn on eating out in 2015. No wonder the food and beverage industry is so competitive. Restaurants are competing on many levels including price, value and promotions, service, location, and food quality.
Just think about how many Italian, Mexican and Chinese restaurants there are in your city or town. Probably more than you think.
Unless you own a Michelin star restaurant or have an infamous chef, chances are you will have to find other ways of standing out from the crowd. So, how do restaurants and bars differentiate themselves in the market and attract more guest traffic?
To succeed you need a marketing strategy which utilises different techniques across multiple channels. This includes word of mouth, referral marketing, social media, local SEO, email marketing, SMS marketing, among others.
All these are equally important but when it comes to sending last minute deals and planned promotions, SMS is the clear winner.
Restaurants and bars can leverage SMS marketing in so many ways. Here are some campaign ideas the food and beverage industry can take advantage of:
Last-minute deals – Restaurant and bars can increase their guest traffic by sending last-minute deals, especially on less busy days. The industry is always busy on weekends but weekdays tend to be slower. For the same reason, people tend to make reservations for weekends and plan ahead. In contrast, during the weekdays, people usually decide where they're going to eat or grab a drink on the spot. Restaurants and bars can leverage this opportunity to send text messages with relevant promotions and offers in the late afternoon or early evening when people are still making their minds up.
Personalised offers – People tend to respond better to tailored promotions. To personalise your offers you can integrate data from other marketing channels to gain a comprehensive picture of your customers. For example, you can send them a special promotion for their birthday. Also, people are more likely to redeem offers on such occasions. Research found that people are more likely to self-gift on their birthday, with 61% of people indicating that they treat themselves.
Confirmation messages – Don't you just hate it when a restaurant has lost or messed up your booking? This can happen even in the most reputable places. Sending a confirmation message to your customers can help you avoid mistakes and also increase customer satisfaction. If the receptionist made a mistake about the date or time you will be able to see and correct it on time.
Surveys – surveys are a great way to improve customer service and in turn customer satisfaction. Reportedly, SMS messages are one of the best platforms to request surveys with 31% of consumers responding to such invitations, on average within five minutes.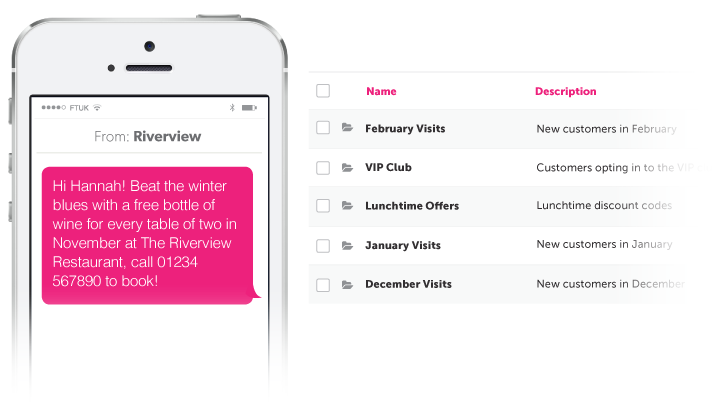 2) Banks and Financial Services
Mobile is the new hub for personal banking. According to BBA, mobile banking overtakes branches and the internet as the most popular way to bank. And this trend is only estimated to grow.
This means that mobile phones are the preferred device for customers to manage their finances. So, it makes sense to contact them on their preferred device and platform and leverage it to create a superior customer relationship.
Research showed that customers under 25 who had a positive first interaction with a bank, are more likely to approach the same organisation later in life when seeking to finance for larger transactions such as a mortgage or business loan.
Positive experience and a good relationship with customers are essential to success in the digital age. Here's how SMS marketing can help banks and financial institutions foster a better bank-client relationship:
Payment reminders – SMS messages are a great way to remind clients of outstanding and overdue payments. HMCTS achieved a 14.5% increase in collections of fines using text message reminders. The immediacy and open rate of text messages, make SMS reminders are a more effective communication method than email.
Payment confirmation – SMS can also help you fight fraud and make clients feel more secure. You can alert customers by SMS when payments over a certain amount or oversea payments are made.
Notify for updates – Banks tend to change policies quite often. It's easy to miss an email or in-app message, so SMS provides you with a more reliable platform to send critical messages and notify users about important updates
3) Travel Industry
As the travel industry is so dynamic, last-minute communication is essential. The immediacy of SMS messages makes them the perfect platform.  Text messages can greatly help in:
Notifying customers – Last-minute changes such as flight delays or cancellations are common. SMS can help you notify passengers resulting in greater customer satisfaction.
Reminders – Text messages can serve as reminders for customers to complete online check-ins or other outstanding actions before their departure.
Offers and promotions – You can leverage data such as past behaviour and travel history to tailor-make exclusive offers. For example, if someone has travelled to a given country more than 3-4 times in the past years, most likely this person is originally from that country or has close friends and family there. This means that they'd be interested in travelling there again in the future. You can segment these customers and send them a targeted campaign with a discount code for that destination. Here's an example of push notification from Wizz Air using this tactic, but you can also adapt it to text messages:
Promotion of new destinations –  Using customer data you can uncover which airport individual customers travel most often from. Based on it you can market new routes and destinations through targeted and personalised SMS messages.
You can think outside the box and get creative with SMS marketing when it comes to the travel industry. For example, you can also send customers helpful tips, like exchange rate information, the weather forecast and best things to see or do in their destination.
4) Healthcare Industry
Did you know that more than 12 million NHS appointments are missed each year which costs the health service nearly £1bn? And the worst part is that over 50% of 'no-shows' are due to simple forgetfulness.
SMS reminders played a crucial role to decrease NHS's no-show rates and save the healthcare services millions per year.
Here's how businesses in the healthcare industries can use SMS messages to improve their services:
Appointment and prescription reminders – Not only sending reminders can decrease "did not attend" rates and save you money but it also results in better customer satisfaction.
Provide test results – While some test results are of sensitive nature and need to be discussed privately with patients, many of them are regular check-ups. SMS messages can help you cut time, admin and communication costs by automating the process.
Health and diet tips – You can leverage SMS to send health or diet tips to patients. For example, The Guardian reported that motivational messages help smokers quit, doubling their chances of giving up tobacco.
Surveys and feedback – you can use text messages to gain patient feedback or conduct surveys.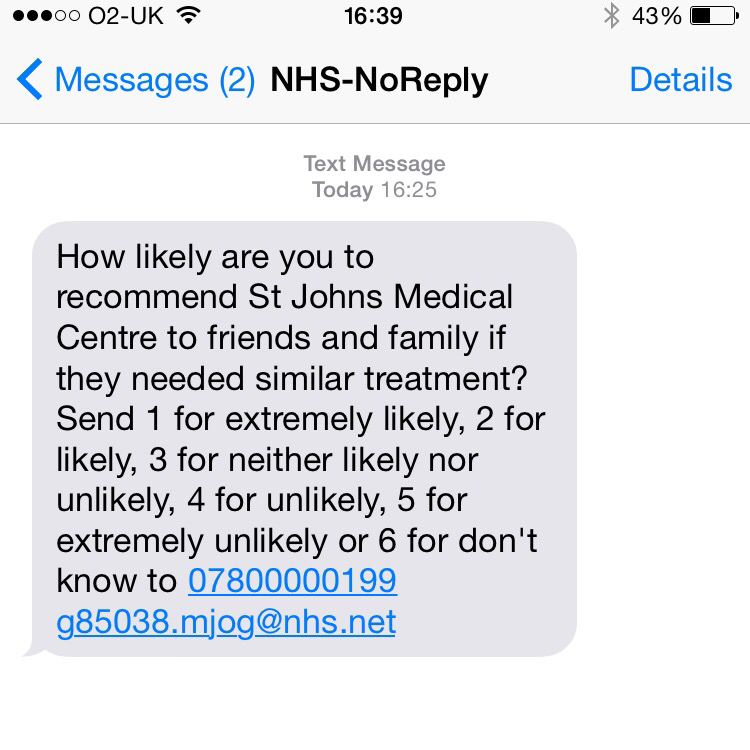 5) Retail
The retail industry was one of the first to jump on the SMS marketing bandwagon and one in which SMS marketing is still widely used.
Similar to the travel industry, the retail industry can leverage SMS marketing in so many ways. From courtesy messages to coupons delivered in the form of a scratchcard or shake-to-reveal messages.
As the opportunities for retail are only limited to the marketer's imagination, here's just a quick list of the ways the retail industry can use SMS messages:
Deals and offers – Retail brands can use text messages to notify subscribers about upcoming sale events, both online and in-store.
Personalised promotions – Based on past consumer behaviour and other data, personalised promotions can be sent for birthdays or events such as Valentine's Day and other holidays.
"Don't miss it" campaigns – An SMS message triggered when an item on customer's wish list is low in stock.
Launch of a new product – You can use SMS to create buzz around the product before the launch date.
Re-engagement campaigns – Send campaigns targeted at lists that have become despondent.
Courtesy messages – You can let customers know of any changes or inform them about their account credit via SMS messages
Event invitations – SMS enables customers RSVP for events via text message
6) Recruitment
Emerging technologies had a great impact on the recruitment and HR industry. Technical innovations enabled HR teams to streamline activities and operate more efficiently. One of these technologies is SMS messages. Here are some ways recruiters can benefit from using text messages:
Inform job seekers of new openings – Recruiters can leverage SMS to inform applicants of new job openings. 61% of customers prefer to receive text messages as they are much less obtrusive than a phone call and job seekers can evaluate the opportunity in their own time.
Interview reminders – It's frustrating for both the recruiter and the interviewer when an interviewee doesn't turn up for the interview. Sending reminders to interviewees can help decrease the no-show rate.
Inform applicants – SMS enables you regularly inform job applicants about their application status. This will help you foster a better relationship and establish trust with candidates.
7) Beauty industry
The beauty industry includes hairdressers, manicurists, makeup artists, skin professionals, among many others. SMS messages can help them combat their biggest challenges: no-shows, slows days and one-time customers. Here's how SMS messages can help:
Appointment reminders – No-shows and late clients are inevitable, however sending reminders to clients can help you reduce the rate.
Re-engagement campaigns – If you're using a CRM you can track the time between customers' appointments. You can use this data to remind them it's time to book a new appointment.
Deals and coupons – you can use SMS messages to send your customers deals and promotions about your services.
8) Entertainment venues and event organisers
From promoting an event to ensuring everything runs smoothly on the day, organising an event is no easy feat.  That's why savvy marketers are making SMS marketing a key part of their mix. Here's how SMS can benefit event venue and planners:
Promotion – SMS enables you to send notices of upcoming events. You can segment your lists by interests and target subscribers with personalised text messages. For example, if you held a rock concert a few months ago but also have another one upcoming, the attendees on the first event will also likely be interested in this one.
Information – You can send notices to delegates and attendees to keep them instantly updated about what to expect next.
Special offers – If one of your events is not selling as good as you thought it would, you can run a promotion and distribute it via text messages.
Surveys – SMS helps you conduct surveys about attendees' experiences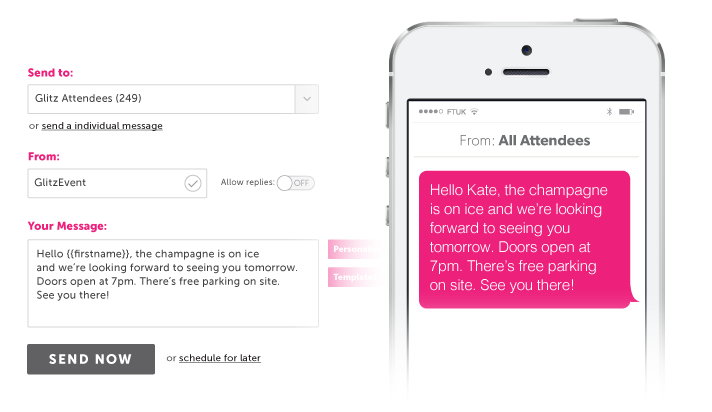 Do you use SMS marketing as part of your mix? What industry does your business operate in?
Explore More Related Content